I don't typically do politics - generally I don't care one way or the other. Some might call me a conspiracy theorist - I have the hippy pot-head politics going on - I think the government lies and is out to get us.
Well... they do and they are.
But that's neither here nor there. Politicians are poop. But this post isn't about politicians. It's about our soldiers. The soldiers who had to take on the mission of assassinating Osama bin Laden, the soldiers who take on the tasks of defending our country every single day. The soldiers who have lost their lives for you and for me. I love our soldiers - politicians can go to h-e-double-hockey-sticks.
So in dedication to those soldiers as well as to the civilians who lost their lives in the 9/11 attacks, the families who lost loved ones, the NYC fire fighters, and those who fought and still fight - to avenge for those deaths - I bring you a very special American Music For The Morning Post...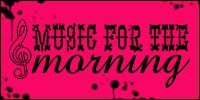 Tuesday Hops: