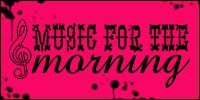 Welcome to Monday little Monsters!
I'm ready, are you ready?!?! Here's to an awesome week!
Today's Theme for Monday's Music Moves Me is... (drum roll please) songs about the weather and colors! How fun! So here we go!
If you don't love this one - you're silly! It's fabulous! ;)
Here's a classic favorite of mine - it's really considered more of a Christmas song, but I think it's a great way to usher in the Phoenix summer (we're supposed to get up into the triple digits this week! Blech...)
Pink! It's my favorite color! (no really - it is!)
Loooove me some Aerosmith.
Here's a couple of classics!
More Monday Hops: