UPDATE 8:30pm Tuesday
Here's what mine turned out like. I thought it was delicious! Pops said he prefers his coconut in a pie - so I'll have to try out a sweet recipe for next week :)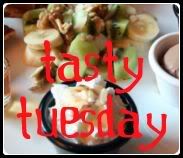 Continuing on with my quest to add more of this healthy and nutritious fruit and oil into my diet, I bring you Cooking With Coconuts Blogisode 2: Cooking With Coconut Cream Concentrate.... mmmmmmm!
Now I must admit that I have not tried this recipe as of yet - however... I intend to make it for dinner - so pictures of my actual creations will be posted later.
Let's talk a bit about Coconut Cream Concentrate before we get to the recipes.... I purchased mine from Tropical Traditions via their website. (No, they aren't paying me to review their products or giving me free stuff. I'm just sharing what I use.) It's a little tricky to work with - as it has to be melted prior to use. They do have a nice little video tutorial on their website that shows you how to properly melt the concoction so that you can easily mix the separated coconut oil back in with the meat prior to using it to cook with. Basically - you put the entire jar into a large bowl, leave the lid on loosely. Fill the bowl up with hot water and let sit 20-30 minutes. Stick a knife in - if it doesn't go easily to the bottom, repeat the process until you are able to mix the oil and coconut meat back in together easily. Mix thoroughly. For info on the benefits of this delish stuff - there's lots of good info on the TT website - so check it out. Now on to the recipe...
Creamed Corn
2 cups fresh chicken stock
1 cup Coconut Cream Concentrate
10 ounces fresh or frozen corn kernals
1/4 (to taste) sea salt
1/4 (to taste) teaspoon fresh ground pepper
Directions:
1) Combine chicken stock and Coconut Cream Concentrate in medium saucepan. Bring to boil over medium high heat
2) Add corn kernals. Stir and return to boil. Then reduce heat to simmer. Cook 3-5 minutes or follow package directions
This recipe came from the book Virgin Coconut Oil. I intend to modify it slightly - by adding some organic butter. I'm southern... everything's better with butter!