I love Christmas lights - one thing I miss about living in Georgia is the elaborate Christmas lights displays people would put up on their houses.
We used to drive around every year just to look at Christmas lights. No need to pay money to go see the zoo lights, etc. The people here don't decorate like they did in Georgia. I don't know if it's just the part of Arizona that I live in - but we might get a few neighbors throwing a string of lights in a tree with a "Feliz Navidad" sign and that's about it. Seriously. One block down from my house, the guy has a blinking "Feliz Navidad" sign in his tree. I think it might be time to move...
In contrast - there was a guy who's house we used to drive by every year in Georgia who had a red convertible he'd decorate and have a stuffed Santa sitting in it waving at everyone. And that was only PART of his lights display! I miss that. I suppose when you live in a neighborhood of huge houses on 1/4th of an acre lots you don't exactly have much room to be elaborate with the decorations. And we always have the HOA's to contend with. I'm feeling quite nostalgic right now and would love to move back to the country - where we have things like this...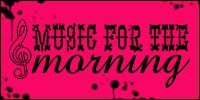 And that brings us to today's Christmas song. This is really cool - I didn't even know you could do this to your house until this year. I suppose I just never really thought about it... Check it out!
What's the best Christmas lights display you've ever seen?
If you send pictures I'll post them!