This is my current theme song...
I'm linking up with
Blonde Episodes
again this week for another episode of...
PLUS SIZE FASHION FRIDAY!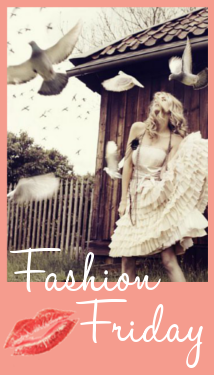 Today I'm going to highlight some of my favorite finds at Igigi.
I love Igigi's site - and their style. I have to admit though that I've never purchased any of their clothes. That's because you can only order them online, they are pricey and I hate to do the whole buy-a-new-brand-of-clothes-online-and-have-them-not-fit-and-have-to-return-them thing.
Even if a company has "hassle free" returns - I end up leaving my needs to be returned item in the backseat of my car or some other random place and forget to mail it back. Then the time limit for returns expires... It just never works out for me. I play this little game with Old Navy's Women's Plus clothing online all the time. Their sizes tend to differ - so once you think you find a size of their's that you fit into perfectly, you order something else in that same size and it won't button or swallows you whole. But I'll stop bitching now...
I found some things at Igigi that make me think I may have to take the purchase plunge and hope they fit...
Like this lovely work ensemble...
Or this one...
This dress is absolutely fabulous - simple, yet bold and elegant.
Love it!
I love this dress too - not her brown shoes and hat though.
Doesn't match!
This little gem you can wear two ways...
And...
These are GORGEOUS!

And then there's these...



That would look fabulous with this...

Add on one of these = ready for a night on the town!



Or maybe this dress instead....

So many choices!
Have a WONDERFUL weekend all!