Good morning Lovies! It's Monday and you know what that means?!?!
Today is Kaitlyn's 5th birthday party.
Happy Birthday to my little angel Kaitlyn!!!
My day will be filled with cake, presents and lots and lots of screaming 5 year olds. YAY! Or perhaps I should be asking for your prayers... LOL
Wish me luck!
This first song's for you Kait!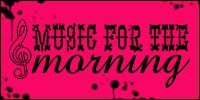 I've got a random assortment for you today...