As you may be able to tell from my recent Music For The Morning posts - I have been feeling exceptionally sappy as of late - which is quite uncharacteristic of me. I may have to try this darn dating thing again here soon...
*sigh*
I blame it on the entire country music industry. Of which I of course LOVE.
Here's some of the recent sappy culprits that have gotten to me...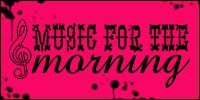 WELCOME TO FRIDAY!!!