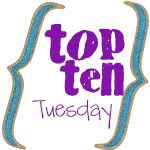 I stumbled upon this fun little blog hop - and since I'm in a storming up the blog-o-sphere mood today - I figured it would be the perfect opportunity for me to do a post on (drum roll plz):
The Top 10 Songs Of My Life
(or at least some of them - there's way more than 10 actually...)
Remember this post? Well this one is kinda like that - but I'm doing specific songs this time. We all have them - certain songs that every time we hear them on the radio we are transported back to a specific time and place. Please allow me to take you on a journey back through some of my favorite songs...
1. Ace of Base Don't Turn Around
This song conjures up memories of a particular trip I took as a teenager to Panama City Beach, Florida - my family's yearly summer vacation spot. This song had just been released and I had the cassette single. I played it over and over and over and over on my little Walkman as I laid out on the beach and by the pool soaking up the sun with my sister and her best friend. I just couldn't get enough of it. I still love it! This one definitely brings back happy thoughts of beachy good times!
2. Aerosmith Cryin'
This song doesn't necessarily bring up good memories for me... But it reminds me of a particular summer that was rather... shall we say... definitive in my life. The whole "Amazin', Crazy, Cryin'" phase they went through can be grouped into that same summer.
3. Trick Daddy I'm a Thug'
This one always makes me laugh... It reminds me of when I was around 21 years old and I met my best friends Diane and Paul. When I first told Paul that I'd quit-uated from high school and gotten my GED - he immediately started calling me a thug and would sing this song to me repeatedly. It was hysterical... Obviously - I'm not a thug and now have a college edu-ma-cation - but it was still hysterical... and it still reminds me of Paul and allllll the good times we 3 have had over the years.
4. System of a Down Chop Suey!
This song is so awesome... System of a Down is awesome. When I first moved to Arizona, my brother in law, myself, and our friend Justin spent a lot of time out at the local bars checking out the cover bands. We love cover bands... During one particularly drunken episode, the three of us had this brilliant idea that we were going to start a band - and cover System of a Down Songs. I had all their CD's in my car and it became our drunken tradition as my poor sober sister had to drive us - to sing these songs at the top of our lungs the entire ride home. Our band name? T.A.B. Tits, Ass & Beer. (Don't ask...)
5. Green Day She
This whole entire Green Day album is one of my favorites of all time - as was the one that followed. Who wouldn't love an album entitled Dookie??? Hysterical... I listened to this one over and over on my first portable CD player on a trip to my family's winter vacation spot as a teenager - Gatlinburg, Tennessee. My parents hated it. I looooooved it!
6. Faith Hill Cry
The song that got me through my first real heartbreak...
7. Luke Bryan's cover/mix of Fishin' In The Dark
It will always remind me of high school and the many live shows I went to of his before he was famous. He sang it at every single one of them. He still does. It's awesome that he still sings a song that takes me right back to our high school days. Then he adds in a little Collective Soul. You gotta love his creativity.
8. Jimmy Buffett Cheeseburger In Paradise
Really... who needs to mend their carnivorous habits? I'm all for Cheeseburgers In Paradise! And am a Parrothead until the day I die (maybe even after...)
9. Alice In Chains Man In The Box
It's timeless... Remember those cover bands I mentioned earlier?? They ALWAYS did this one... And I LOVED IT!
10. Jewel Angel Standing By
This one brings back so many memories of so many different good times. I can't even begin to name them all. Such a good song - an even better album.
So - I showed you mine, what are your's?