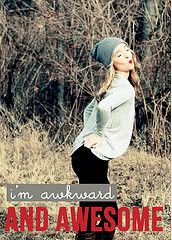 The Awkward:
Falling asleep on the toilet.
Yes, I did it this morning - I regret to inform you...

I drank too much water right before I went to bed last night and I was jolted awake at 1:00 am with the over-whelming need to pee. So I stumbled to the bathroom - where I promptly sat down and fell back asleep. I've NEVER done that before. I slept there for 30 minutes with my head against the wall like the guy in the picture. DOH!
The Awesome:
They smell like grapes and look like apples. They taste like both. At first I thought this was some super hybrid fruit clone thingee of a grape and an apple. Tis not, I'm afraid. After further research, I learned that Grapples are actually just regular apples soaked in grape juice. Regardless - they are delicious!
It was way more fun to think of them as super duper hybrid fruit clone thingees though.