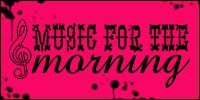 Good morning Loves!
I'm excited - there's finally an official video on YouTube for Adele's "Someone Like You"!
Don't you just absolutely LOVE this song? It makes me happy...
Me thinks my new co-worker is insane - he's got the back door open and is freezing us all to death! Let me crank up my little heater and throw on a jacket... Have a fabulous Monday Loves!
xoxo