The last official fling of summer before we head off into fall.
I say - you should definitely be treating this weekend right! Grab your favorite beverage(s) and go find a body of water with a grill close by - take the season out in style! Luckily this will be happening for me in my own back yard.
And for your Labor Day listening pleasure - ensure you have
Luke Bryan's newest album
to accompany you. The entire album is fantastic.
For me, it takes me back to my Labor Day Weekends growing up - when we'd all head to Panama City Beach, FL for one last dip in the ocean... Until next summer...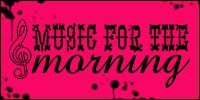 (yes - I know the morning ended an hour ago. don't judge me! ;)