September 24, 2011 marked the 20th Anniversary of the release of Nirvana's legendary album
Nevermind
.
Besides making me feel exceptionally old - this also brought back many, many memories of the album and the major life events it was played during through-out my forming adolescent years. I was almost 12 when the album was originally released - and much to my parents dismay, I loved it. (And Green Day's
Dookie
- they really hated that one!)
So this morning - I want to play you one of my favorites from
Nevermind
.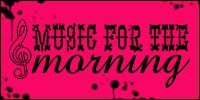 What was your favorite Nirvana song?