OK click pause on the lovely music on the top right hand corner of your screen - I've got some music for the morning for you! I'm going to go with a mix of some happy and some sad. First the sad - then the happy. As some of you know, I'm an addictions counselor. This song is an older song, and I came across it yesterday quite by accident. I was trying to find some songs by Hinder to send to a friend who had never heard of them - and I saw this video. I loved this album when it came out but I never watched the videos to any of the songs. Watch it and you'll see why I mentioned my profession again...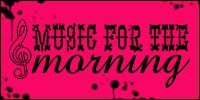 Next we have another song that I discovered today. It's absolutely ADORABLE!

Have a good day loves!