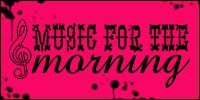 Mondays suck. But this song is just plain FUN!
I'm linking up over at
All The Weigh
today for Friend Makin' Monday!
Cuz I'm all about makin' new friends! :)
FMM: The Last Thing...
1) What is the title of the last book you read?
The Kind Diet by Alicia Silverstone
2) What is the last movie you saw in a theater?
I can't even REMEMBER!!! It's been years... Maybe a cartoon with my niece - or something with my mother... Seriously - the last one that comes to mind is MaMa Mia! My mother and I went to see it the day it came out. I think that's the last movie I watched in the theater. I need to go to the movies!
3) Briefly describe the last person you saw today.
I just saw my Chinese nurse - and she's super :D
4) Which store did you most recently shop in?
I bought dog food at Wal-Mart Friday. I hate friggin' Wal-Mart...
5) Who's the last person you spoke to over the phone?
uhhhhh probably a client...
6) Where's the last place you vacationed?
Cali-for-nia with seester!
7) When was the last time you kissed someone of the opposite sex?
It's been a while... I am very, very sad to admit.
8) What's the last thing that made you laugh?
ArtsyNina's comment on my Blogaholic Network profile. I literally LOL'd.
9) What's the latest app that you downloaded on your phone?
Instagram
10) What's the last kind thing you did for someone?
I was the designated driver for my bestie's birthday party dinner Friday night! Yay me!