I was freaking out because I didn't get to do my Music For The Morning post!!! Thanks for fixing whatever issues you were having Blogger...
AHHHHHHH!!!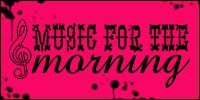 I love, love, love, love, LOVE this song!!!
When I first heard it I was like.. is he rapping?
Now I love it - think it might be my new anthem!
Here's a version you can hear a little bit better...