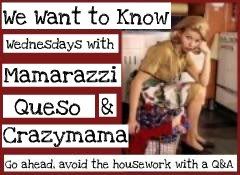 1. What game show have you always thought you could be on and totally WIN!
Wheel of Fortune - might have been the only one I could've possibly done well on.
2. Do you have a tattoo(s)? What are they and what made you chose them? If not, would you get one, yes/no/why?
I currently have 5 tattoos - and intend to get a few more!
My favorite (so far) is this one:
My arm is on the left - the pink one. The other is my sister - this is a Celtic symbol for sister. It's symbolizes the 3 women in our family - sister, me, mom. The squiggly decoration symbolizes my niece :)
My 2nd favorite tattoo is the one on my foot. My sister also has a matching one. We like to get matching tattoos :)
I also have a star behind my left ear, a rose on my left ankle and a punk rock Tinkerbell on my back.
I want to get a starfish on my right wrist, "Everyone is a Star, & deserves a chance to shine" Marilyn Monroe quote somewhere (haven't decided where yet). And I want to get the Phoenix Coyotes logo over my heart.
3. What is your favorite piece of jewelry that you own?
My starfish bracelet - or my Coyotes earrings... tuff call!
4. What is your driving pet peeve(s)?
People who ride my ass...
If you're gonna ride my ass honey, at least pull my hair! ;)
5. What was your favorite sitcom growing up that you wish was still on?
Roseanne
What...?
Come on... look at the fringe on Jackie's jacket! You know you loved that show!