My weekend didn't go as planned - Monday snuck up on me. I hate Mondays...
I spent Saturday sick and then couldn't decided on a paint color and had to postpone the painting. So I got nothing accomplished. Oh well...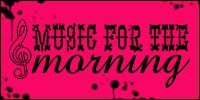 Today's Monday's Music Moves Me theme is Reggae. I'm not a huge Reggae fan so let me see what I can dig up here....
OK so come to find out some of my favorite songs are Reggae! Go figure...