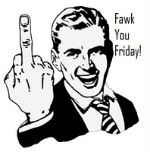 It's been a helluva a week - I've got some things that need to be fawked...
Allergies. For the past week they've been giving me hell. From pollen to wheat to milk. Fawk you all!
This headache that has now been present for 2 days. FAWK YOU!!! Leave me alone!
The disaster area that is my house - and the next 2 days it's going to take me to clean it up. That is - if I can ever get the swelling to go down in my foot and am able to stand like... AT ALL...
And this. Fawk this:
That's my foot. I dropped my bed on it last night (don't ask...)
It may be broken... I don't know.
Now my head AND my foot are killing me.
I need a hole to crawl into.
Someone make this all go away when I come out...