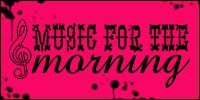 Welcome to the weekend!!!
I have to work Saturday morning until 8 - but I'm going to try to not let that ruin the whole weekend!
Game 2 in round 1 of the Stanley Cup playoffs
is Saturday for my boys at 10:00am Phoenix time - we lost game 1 :( - so I'll be nail biting and munching on brunchy foods with the hockey friends for game 2.
Then come Monday we have our first home playoff game! CAN'T WAIT!!!
It's gonna look something like this in there:
Here's some lovely Saturday morning music for your listening pleasure - this is such an adorable song! Have a good day Lovelies!