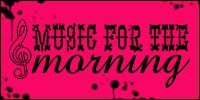 I've got a very special song for you this lovely Sunday morning - brought to you by Maddy Moose!
sick 'stache, no? :)
Maddy picked today's Music For The Morning song for you - Enjoy & Happy Sunday!
o
This is one of our personal favorites - we sang to it (badly) all the way to California & back last weekend!