This post is just kinda out there... which is exactly where I'm at today...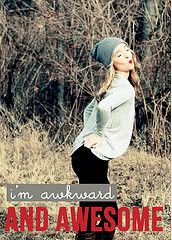 The Awkward
Forgetting what you wanted to write for your Awkward & Awesome post.
Oh yah... I remember...
Running out of your happy meds.... it makes you very awkward to live with, upsets your stomach and can even cause you to miss work.
Falling asleep on the toilet. AGAIN!
The Awesome
Not that toilet - though it is kinda awesome actually... and pink. I love pink..
Bryzzy imitating how his Bobblehead works.