Adventures in Cooking With Coconuts!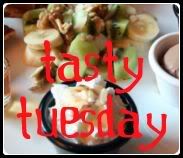 I've been reading a lot lately about the benefits of coconuts and specifically coconut oil both topically for the skin and internally for the body. As you might have read here - I especially like using it as a body lotion/oil.

Up until now, I haven't done much in the way of cooking with the oil. I've experimented here and there. But as part of

Project: Do Me

! I've committed myself to ensuring that I consume the recommended amount of coconut oil per day - approximately 3 tablespoons.
First of all - let's talk a bit about what the benefits of coconut oil are.

Coconut oil was once prevalent in the United States however - a

negative campaign

against saturated fats in general, and the tropical oils in particular, led most manufacturers to abandon the use of coconut oil in favor of

polyunsaturated oils that come from the main cash crops in the US, particularly soy, and contain trans fatty acids.

These polyunsaturated oils were not a big part of the diet of previous generations, so how has the health of Americans changed now that polyunsaturated oils are - for the most part all - the main oils consumed by Americans today? Hmmmm...
Research
shows that the medium chain fatty acids found in coconut oil boosts the body's metabolism, raises body temperatures, and helps provide greater energy which can lead to weight loss. When I began my coconut oil research I tried several different brands to see which had the best flavor, the best smell and soaked into my skin the best. The best I've found so far has been Tropical Traditions Gold Label Virgin Coconut Oil.
They have a lot of great information on their website - and I love, love, LOVE the fact that they employ local people and make the oil by hand - as opposed to the majority of what you will find in stores. Those oils are expeller pressed and I've found them to have a much less pleasing flavor, consistency and smell than the Tropical Traditions coconut oil.
So... without further ado - my first Cooking With Coconut Oil experiment was lemon pepper asparagus. Here's the ingredients:
1 tablespoon virgin coconut oil
fresh lemon
(I used concentrate - wasn't too great)
Directions:
Melt coconut oil in a pan over medium heat. Add asparagus and other ingredients once oil is completely melted. Sauté until slightly tender - or done to your liking.
These actually turned out quite nicely. Hot out of the pan there was no coconut taste whatsoever. However, as they started to cool the coconut flavor did set in a bit - which was less favorable. Coconut Asparagus isn't so much a good thing. I think that next time I will try real lemon or lime juice and see if that helps the flavor out a bit. Tweaked a bit this could be a staple in my house.
Have you cooked with coconut oil? What's your favorite recipe to use coconut oil in?